We're taking actions for a better, fairer, and more sustainable future
Members are at the heart of Rest. We are focused on your financial future, and we support actions that will build a better, fairer and more sustainable future for you. Whether it's investing in clean energy or advocating for a fair super system, Rest has a focus on sustainability. You can follow our progress here. Read more about Rest's progress in the inaugural Sustainability, Responsible Investment and Climate Change Supplement.
Sustainability policies in place
May 2013 - Rest puts policies in place for Sustainability and Proxy Voting

CWF signs up to GRESB
2016 - Collgar Wind Farm is an early adopter of GRESB, an infrastructure ESG benchmarking tool

Rest's first female CEO
May 2018 - Vicki Doyle appointed as Rest's first female CEO

Full ACSI member
July 2018 - Rest becomes a full member of ACSI, taking seats on the Board and Member Council

No more tobacco or weapons
August 2018 - Investments in tobacco and controversial weapons are excluded

Rest signs UN PRI
February 2019 - Rest becomes a signatory to the Principles of Responsible Investment (PRI)

Climate change position statement
February 2019 - Rest's Climate Change Position Statement is published

Collgar Wind Farm 100% Rest owned
June 2019 - Collgar Wind Farm is fully acquired by Rest, making it one of the largest Australian renewable energy projects directly owned by an Australian superannuation fund at that time

Tobacco Free Portfolios
November 2019 - Tobacco Free Portfolios Supporter Badge awarded to Rest

Supporting Women In Super
December 2019 - Rest continues support for an equitable superannuation system and formally joins Women In Super

Rest collaborates in ASFI
December 2019 - Rest becomes a collaborator in the Australian Sustainable Finance Initiative

Rest joins RIAA
January 2020 - Rest joins the Responsible Investment Association of Australia

6 Star Green Star design rating
February 2020 - Quay Quarter Tower achieves an impressive 6 Star Green Star design rating from the Green Building Council of Australia

Achieves an 'A' in the PRI
March 2020 - Rest's first and voluntary PRI Assessment Report achieves an 'A' in the Strategy and Governance module

Sustainability strategy
May 2020 - Rest Sustainability strategy is aligned to the UN Sustainable Development Goals
Investor Group on Climate Change
June 2020 - Rest joins the Investor Group on Climate Change, which advocates for government policy and investment practice to address climate change risks and opportunities

Tax Transparency Report
August 2020 - Rest's first Tax Transparency Report is published as part of our commitment to the Voluntary Tax Transparency Code

Modern slavery assessment
September 2020 - All Rest investment managers assessed for modern slavery risks

Net zero by 2050
November 2020 – objective to achieve a net zero carbon footprint for the fund by 2050
We've developed a sustainable responsible investment option that doesn't cost the planet or your pocket

Sustainability strategy
Sustainability at Rest includes how we invest responsibly, our corporate responsibilities as an organisation, and how we advocate for change on matters that are important to our members, and broader stakeholders. We focus on:
Business and investment performance is unlikely to thrive in a world of poverty, inequality, unrest and environmental stress. So it's in our interest to contribute to the United Nations Sustainable Development Goals (SDGs). Endorsed by all 193 United Nations Member States in 2015, the SDGs focus global efforts in a universal call to action to end poverty, protect the planet and ensure that all people enjoy peace and prosperity by 2030. They provide a blueprint to achieve a better and more sustainable future for all*.

The SDGs help to bring our sustainability strategy to life. We have done the work to align our sustainability strategy to focus on five of the SDGs. They frame the Rest contribution to your sustainable future.
Diversity and inclusion
Rest fosters a diverse and inclusive culture where people feel welcome and inspired to do their best, regardless of any characteristic they may have.

We support diversity, recognising that people from different backgrounds bring different skills, knowledge and experiences. This diversity of views strengthens decision making in the best interests of Rest members.

Rest has a 33% minimum target for males and females on the board, which was achieved in June 2021.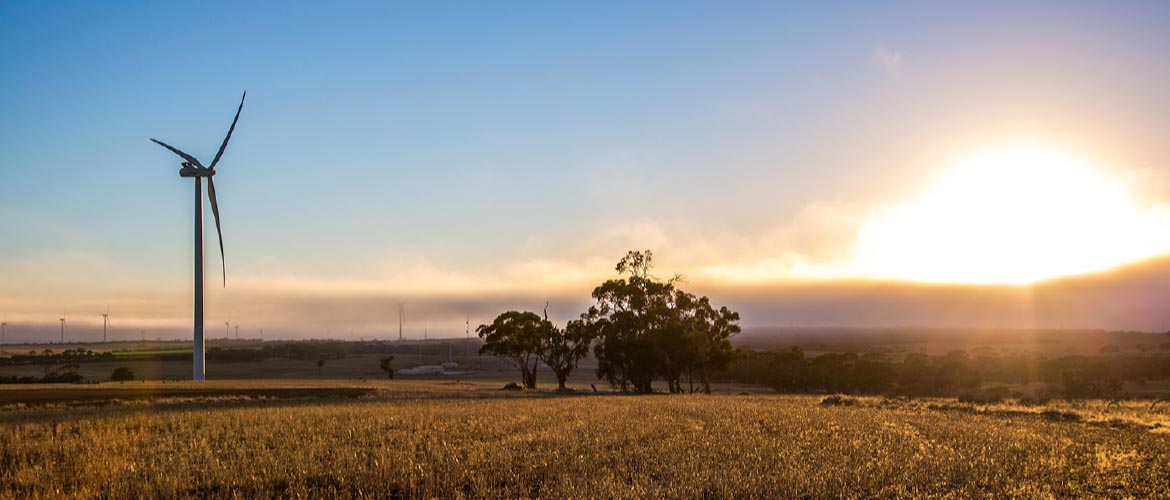 Investing in renewables - Collgar wind Farm
As a superannuation fund managing over $65.8B in assets**, the most meaningful contribution to sustainability we can make is how we invest. Responsible investment helps us manage risk, maximise investment opportunities and contribute to a more sustainable future for our members. This means that your retirement savings can be invested in resilient organisations that are helping to build a sustainable economy; creating financial returns for you, and social and environmental returns for many. The WA Collgar Wind Farm, fully owned by Rest, is a great example.
Generated nearly 20% of WA's wholesale renewable power in FY2021
Enough to power 134,000 average WA homes for a year.
GRESB1 2021 Renewable Power Sector Leader
18,000 hectares with rent paid to local farmers
200 people employed during construction and 18 people employed ongoing
$100,000 donated
to local projects per annum
Climate action
We understand that the impact of climate change concerns our members, and that it is a financial risk for long term investors. With 50% of our members under the age of 30*** and with decades before retirement, it is important to think long term. So, we have adopted an objective to achieve a net zero carbon footprint for the fund by 2050. This reinforces our approach to managing ESG factors like climate-related risk and aligns with long term investment performance.